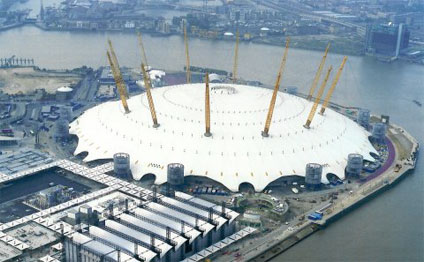 Welcome to the Worlds Worst Urban Places and Spaces - a sister site to digitial urban.blogspot.com this site is dedicated to exploring the worst examples of urban planning and architecture in the world.

As such its content is down to you and it is easy to submit via our own Flikr Group. Simply add your photograph along with a short description between 100 and 250 words to the Worlds Worst Urban Spaces and Places Flickr Group.

As a kick off the prize of first post in Worst Urban Place and Space goes to the Millennium Dome in London. Designed by Richard Rogers the Dome has come in for a considerable amount of criticism. It should however be noted that it has contributed to the regeneration of the local area - but considering it cost 50 Million (UK) to build that should go without saying.

The dome was sold to US Anschutz Entertainment Group (AEG) and reopened in July 2007 as the O2, an entertainment complex including a 22,000 seat concert and sports venue, cinema, music club and exhibition spaces.

The fact that London won the Olympic bid for 2012 has given the Dome a new lease of life but the fact remains it stands out on the London landscape as an embarrassing example of both architecture and urban planning.